"When a product is manufactured by people who find their work important, it will inevitably be a quality product."
Pehr G.
SCC is a company specialized in the design, production and supply at a global level of equipment, components and services for the most varied industrial sectors: machine tools, food industry, oenology, pharmaceuticals, trucking and many others.
SCC PRODUCTS
Entirely designed and built within the company
SCC was founded by the brothers Giuseppe and Antonio Chindamo in the early 70s in Pavia, as a small artisan company dedicated to the production of manufactured metallic carpentry.
Over the years the company has gained the experience and technology that have allowed us to broaden the range of products and offer a complete service: study, design and construction of products fully responsive to customer needs.
Since 1974
innovative solutions to complex problems
IN "2005"
it developed in the production of telescopic protectors and thermo-welded bellows, progressively specializing in the design of these devices for application in the machine tool industry.
IN "2012"
he has further diversified its production with the design and manufacturing of conveyor belt systems used for conveying of objects or materials from industrial manufacturing processes.
IN THE LAST FEW YEARS
SCC has also expanded his range of products including sumps and filtration systems and liquid purification for various applications.
IN THE LAST FEW YEARS
SCC has also expanded his range of products including sumps and filtration systems and liquid purification for various applications.
The entire production process is carried out in the SCC facilities in Codevilla, Torrazza Coste and Casteggio, which each have a qualified and efficient technical office, and equipped with the most advanced 2D and 3D CAD / Cam design systems for the development of preliminary studies. and / or product projects, to interface with the production process.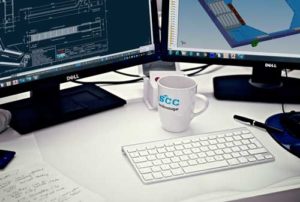 The technical department, made up of professionals with many years of experience and specialized in the processing of materials, is daily engaged in the design of innovative solutions, the careful design of new products and optimization of existing ones, giving consulting  for the development of "ad hoc" projects that fully  satisfy the different needs of the customer, ensuring a robust and efficient production process.
The SCC workshops are equipped with cutting-edge technologies and production methods, the most modern machines for CNC production (machining centres, laser cutting systems, punching machines, bending presses, etc.) which, allowing to control and modify the production process, ensure to reach production capacity of single pieces as well as small and large series.
TIG / MIG welding workstations, a powder coating plant and one assembly department of finished preassembled metal units complete the production process cycle. SCC has a flexible, highly dynamic and performance-rays organization, aimed at a complete support service during all phases of the product manufacturing. The constructive and functional quality of the finished products and their correspondence with the specific requests of the customer is guaranteed by the accurate tests carried out and certified by our "QUALITY ASSURANCE" department.